Many of our cigars have been very successful throughout 2019. Proof of this is that they have received great reviews, very good scores and excellent ratings from the specialized press. Although each person has their own preferences when it comes to savoring a cigar, the opinion of experts may always be of help when choosing a cigar. We offer you a list of our most prized and highly rated cigars throughout this year.
La Aurora Cameroon 1903 in the Churchill format was scored 91 points by Cigar Aficionado magazine in February. This cigar was also scored 91 points by Cigar Snob magazine, in its issue of March / April.
La Aurora 107 in the Belicoso format has been scored 91 points in April by the experts of Cigar Aficionado. Meanwhile, Blind Man's Puff gave 91 points in July to the Robusto format of La Aurora 107 Maduro. And Cigar and Spirits has awarded 92 points to La Aurora 107.
La Aurora 1985 Maduro in the Churchill format was scored 90 points in August by Cigar Aficionado. Meanwhile, Cigar Snob scored it 91 points in its issue of May / June. And its Corona format was included in a list of the best cigars at an economic price to taste in the summer by Cigar Aficionado.
Fernando León Family Reservein the Belicoso format was scored 93 points by Cigar Journal in June.
Great success of our commemorative cigars
Our Commemorative cigar La Aurora 115 Aniversario Regular Edition in the Robusto format ranked 17 out of the 25 best in 2019 by Cigar Journal. In addition, Cigar and Spirits gave it 95 points in September. Meanwhile, Blind Man's Puff awarded 90 points in October to our commemorative cigar in its regular edition. Leaf Enthusiast also valued our cigar with a good score: nine points out of 10 in August. In addition, the influencer Delicia included this cigar as number 2 on her list of the five best cigars of 2019.
La Aurora 115 Aniversario Limited Edition has collected big scores. The highest score was awarded in April by The Cigar Authority: 97 points to this cigar in the Toro format. The Cigar and Spirits magazine awarded it 96 points in June. The Belicoso format received another great score from Blind Man's Puff: 94 points in June. This cigar was scored 93 points by Cigars Lover magazine. This publication also awarded it first place in their best cigars of the year Awards, in the Dominican Republic category. For its part, the specialized blog Halfwheel awarded 92 points in May to the Gran Toro version. It was also rated with a score of 91 by Cigar Snob in its May / June issue. This cigar in the Belicoso format also collected 90 points in September from Cigar Coop.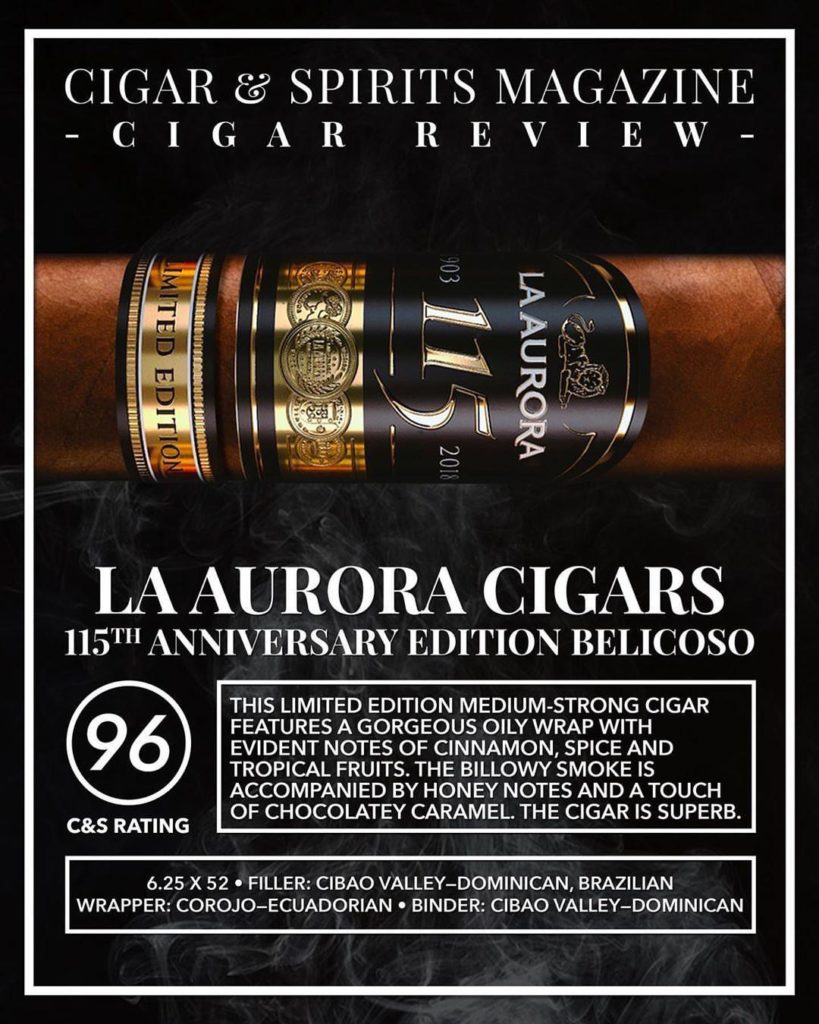 To this list is added, La Aurora Hors D'Age 2017 in Salomon format, which was scored 91 points in May by Cigar Coop.
La Aurora Barrel Aged by Karl Malone received 90 points in September from Stogie Press.
In addition, La Aurora Preferidos Cameroon received 91 points in April by Cigar Snob.
Nominations
For its part, La Aurora Dominican DNA Robusto was nominated in June in the category of best cigar in the Dominican Republic in the Cigar Trophy Awards.
We hope this list of specialized press valuations to our cigars will help you choose which cigars you will taste during the holidays. Any additional information you need about our cigar features—blend, formats, editions—and its flavors and aromas—tasting notes—can be found on our website.