Cigars are not for smoking, they are for tasting, like La Aurora's master blender Manuel Inoa says. And to enjoy cigars properly, the best thing is—in addition to a good cigar—having the time to enjoy it. Our leisure time is usually the best time for smoking. Now that the Easter break is coming, we propose ten cigars to savor in your free time:
La Aurora 107 Nicaragua
If you have not yet tasted our latest creation, the holidays are the perfect time to savor it in peace. From the Tobaccos of the World collection, this is a cigar made with Nicaraguan tobaccos. In our eagerness to teach smokers all about the world of Premium cigars, we have created this collection, hand in hand with our most international brand: La Aurora 107.
Tobaccos of the World is a journey that submerges the consumer in the organoleptic characteristics of the tobaccos that identify the La Aurora 107 lines according to the wrapper's origin in each portfolio variety. Available in five shapes (Churchill, Belicoso, Gran Toro, Toro, and Robusto), its smoke gives off notes of cinnamon, licorice, coffee, bitter chocolate, and tropical fruits, accompanied by a subtle hint of leather.
La Aurora 115 Aniversario
The cigar we created to celebrate our 115thanniversary is a must-have during Easter break. La Aurora 115 Aniversario has received very good reviews since its release in 2018 and is among the best cigars of 2019, according to the specialized press.
It's available in four shapes: Belicoso, Gran Toro, Toro, and Robusto. Notes of black pepper, cinnamon, walnut, as well as citrus, and wood hints are tasted throughout the smoke.
La Aurora ADN Dominicano
A cigar with a lot of strength and aroma, thanks to the tobacco it contains, a product of the Andullo process. Inherited from the ancestors of the Dominicans, this artisanal process is still used because of the strength and the inebriating aroma it imparts to tobacco. Seeds of varieties originating in the Dominican Republic are selected for the tobacco planting under this method.
The tobacco derived from this process is the soul of La Aurora Dominican DNA blend. Specifically, the blend is composed of tobaccos from the Valle del Cibao (Dominican Republic) for the wrapper; Cameroon for the binder, and Valle del Cibao for the filler. Sweet touches stand out in the smoke.
La Aurora 100 Años
Another commemorative cigar with excellent reviews, this is a good choice for a leisurely taste during leisure time. La Aurora 100 Años is available in four shapes. It is a cigar made entirely with Dominican tobaccos, from the Valle del Cibao.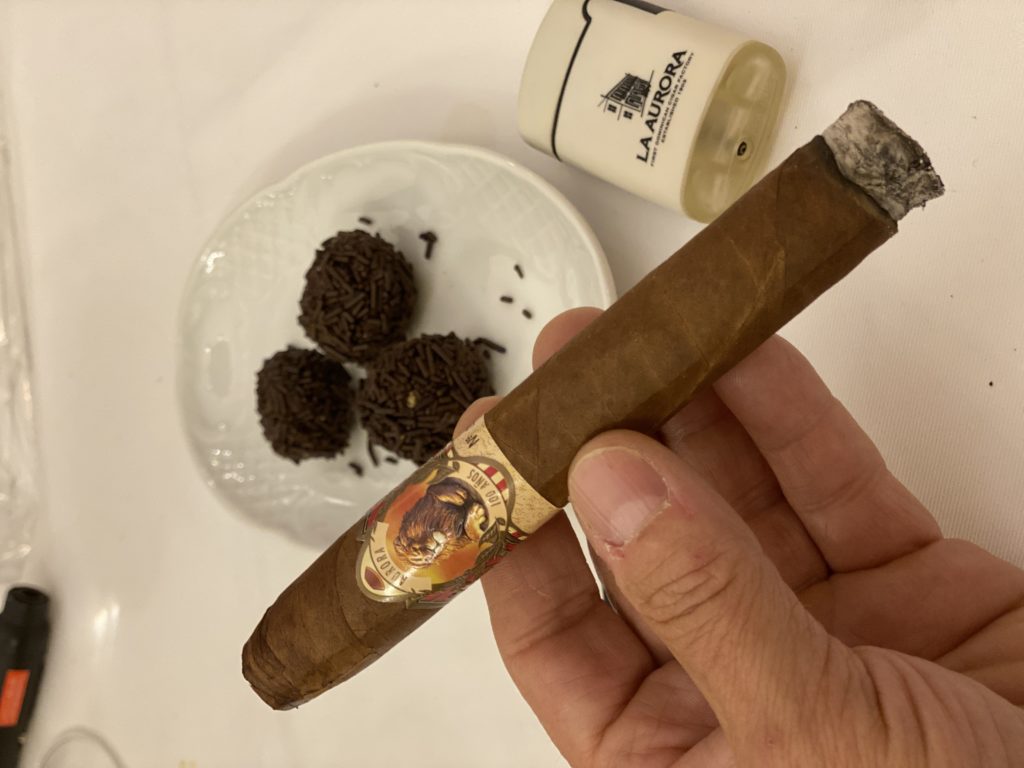 In 2005, the "Cigar Aficionado" magazine awarded this Belicoso cigar the prize for Best Dominican Cigar in the World. In addition, La Aurora 100 Años Special Edition was considered the number 1 cigar of the decade by "Cigar Coop." Its smoke is a flavorful cocktail of leather, nuts, bitter cocoa with hints of honey and candy.
La Aurora Hors D'Age
Time is one of the best allies of a good cigar. La Aurora Hors D'Age is a good sample: an extra-aged cigar. In total, it takes 12 years from the sowing of the seeds to the time the cigar is rolled. Its blend is a mix of tobaccos from Ecuador where the wrapper and binder are concerned, and Colombia, Dominican Republic, and Nicaragua tobaccos in the case of the filler.
It is a well-balanced cigar with spicy notes of black pepper at the beginning of the smoke. Later, hints of cinnamon, nuts, citrus, and roasted coffee emerge. The woody note lingers throughout the smoke, culminating in an intense and creamy finish.
La Aurora Cameroon 1903
This cigar from the Original Blends line is a tribute to one of La Aurora's first blends created in 1903, the year the company was founded. It was recently awarded "Best Value" of the Dominican Republic in the "Cigar Trophy" awards of the "Cigar Journal" magazine.
It is available in a wide variety of shapes and ring gauges with a range of thickness between 30 and 58. This cigar's blend is composed of a wrapper and a binder from Ecuador, and a filler of tobaccos from Valle del Cibao (Dominican Republic) and Nicaragua. These tobaccos offer the smoker sweet spicy notes, such as cinnamon; hints of cocoa, wood, and notes of red fruits.
La Aurora 1495 Series
This cigar is composed of six tobaccos from five countries: a dark, oily wrapper from Ecuador; a binder from Brazil; and a complex filler with Peruvian, Brazilian, Nicaraguan and Dominican Valle del Cibao tobaccos. Its smoke gives off notes of black pepper, wood, hints of cinnamon, nuts, and citrus flavors.
It's available in six shapes: Churchill, Belicoso, Toro, Robusto, Sumo Short Robusto, and 15 Minute Break. Some time after its release, La Aurora 1495 BME was created for this line, with four wrappers that are different from the original, in Toro and Robusto shapes.
León Jimenes 300 Series
We created the León Jimenes 300 Series line to celebrate the brand's 20thanniversary. These cigars were named "300 Series" because their tobacco is aged for an extra 300 days. With a strength of 6 out of 10, it is available in Churchill, Belicoso, Corona, and Robusto shapes.
Contains an Ecuadorian wrapper, a Nicaraguan binder, and a filler with tobaccos from Valle del Cibao, Nicaragua, and Peru. The smoke begins with earthy notes, which give way to hints of nuts, spices, and cinnamon.
La Aurora Edición 1903 Preferidos Broadleaf/Diamond
From the 1903 Preferidos Edition line, our suggestion to enjoy during the Easter break is the Broadleaf cigar in Parejo shape or Doble Figurado Tubo shape—the so-called Diamond.
They both have a Connecticut Broadleaf wrapper, a binder from Valle del Cibao and a filler made of tobaccos from Valle del Cibao and Nicaragua. It is a full-bodied, strong, and tasty cigar. Its notes are creamy, with hints of wood and candy, spice, walnuts, and citrus notes.
Cigarro Fernando León
The Fernando León Family Reserve cigar has a very special blend made exclusively for Fernando León, his family, and close friends. It offers spicy and cedar notes, with hints of honey aromas.
It's available in four shapes: Belicoso, Gran Toro, Corona Gorda, Robusto, and Founder's Choice (Corona). It is made with tobaccos from the Valle del Cibao in the wrapper and the binder, and the filler, which also contains Brazilian tobaccos.